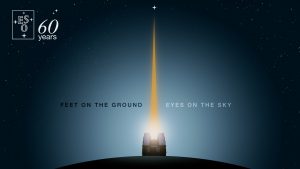 ESO's 60th celebration in the Netherlands
This year, the European Southern Observatory (ESO) turns 60. To mark this occasion, ESO is planning to visit the different member states and celebrate this anniversary with their partners. The NOVA Board and Directorate is therefore pleased to invite you to a mini-symposium in Leiden on Monday the 26th of September. We will be honoured to host a high-level delegation from ESO including the Director General, Prof. Xavier Barcons, and the President of Council, Dr. Linda Tacconi. We are especially honoured to also welcome the Minister of Education, Science and Cultural Affairs, Prof. Robbert Dijkgraaf.
The day's programme has two parts: Starting at 10:00, the NOVA-ESO instrumentation day will shine a light on the past, present and future of NOVA's involvement in the ESO instrumentation programme. A series of exciting presentations will cover the current developments in some of the key projects such as METIS, MICADO and the ALMA Band 2 receivers, but also the fascinating results coming from instruments already operational.
The main festive event takes place from 15:00 onwards. Keynote speeches featuring, amongst others, current and former ESO director generals, the president of the ESO council and the minister for science and education, will be interleaved with presentations on recent science highlights.
The event concludes with celebratory drinks.
The full programme can be found here https://nova-astronomy.nl/nova-eso-instrumentation-day/
The event takes place at the Boerhaave Museum in Leiden. Please find directions here https://rijksmuseumboerhaave.nl
If you would like to attend this event, we request that you register by filling in the form on the right. Registrations will be processed on a first-come-first-served basis.
We very much look forward to welcoming you in person at this exciting event. You can register via the button below: